Amigos de Steemit, en la línea de mis poemas en torno al cine, como homenaje a algún cineasta o filme, les ofrezco otro poema que escribí hace bastante tiempo, y apenas fue publicado entonces en un suplemento literario, hecho en memoria del director de cine Rainer Werner Fassbinder, acudiendo a referencias o alusiones a su vida, a algunos de sus filmes y a cierta visión filosófica presente en su obra.
Había sido un frecuente espectador de filmes de Rainer Warner Fassbinder (1945-1982), cineasta alemán que integró el llamado "Nuevo cine alemán", autor de unos 40 filmes en 15 años. Además, fue director de teatro y de televisión, escritor y actor. La obra de Fassbinder está cargada de una visión muy crítica y descarnada. Trató temas como el doble, la soledad, el miedo, la Alemania prenazi y de la posguerra, la discriminación étnica y sexual. Fue un artista del encuadre y un realizador de ritmo denso y lento. Entre sus principales filmes (o los que para mí tienen particular valor) puedo nombrar: Las amargas lágrimas de Petra von Kant, Ruleta china, Desesperación, El matrimonio de María Braun y Lili Marleen. Les dejo el enlace de una de sus últimas entrevistas y de una valoración póstuma.

Fassbinder en filmación de Desesperación(1978) / Fassbinder in filming of Despair Fuente / Source
Friends of Steemit, in the line of my poems about cinema, as a tribute to some filmmaker or filmmaker, I offer you another poem that I wrote some time ago, and it was hardly published then in a literary supplement, made in memory of the film director Rainer Werner Fassbinder, resorting to references or allusions to his life, to some of his films and to a certain philosophical vision present in his work.
I had been a frequent viewer of films by Rainer Warner Fassbinder (1945-1982), a German filmmaker who integrated the so-called "New German Cinema", author of some 40 films in 15 years. He was also a theatre and television director, writer and actor. Fassbinder's work is loaded with a very critical and stark vision. It dealt with issues such as the double, loneliness, fear, pre-war and post-war Germany, ethnic and sexual discrimination. He was a framing artist and a director of dense and slow rhythm. Among his main films (or those that are of particular value to me) I can name: The bitter tears of Petra von Kant, China Ruleta, Despair, The marriage of Maria Braun and Lili Marleen. More information about Fassbinder's film work can be found at this link.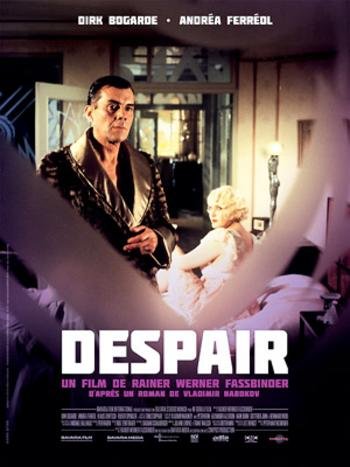 Cartel de Desesperación / Poster of Despair Fuente / Source
Desesperación Fassbinder
Tal vez todo sea una falsa
existencia, un mal sueño.
Vladimir Nabokov
Tu mirada de evadido sin fuga
(delatada por ese ángulo impreciso)
rompería la noche
rasgaría tu rostro
rondador de ruletas heridas
y barras dilatadas por un sorbo de luz
y un encuentro de espejos
con olores oscuros y ventanas desesperadas
(Todas las máscaras se parecen        Todas las historias encuentran su héroe y su doble        La condena al terrenal extravío germina en los gestos insomnes      La ilusión se repite        ¡Muy bien. Corten…!)
Tensada a la soledad
una retorcida lágrima
buscaría las venas de tu goce
carnal fragmentación de una canción en grito
o estallido final que lo comienza todo
para sospechar solo el silencio

Despair Fassbinder
Maybe it's all a fake
existence, a bad dream.
Vladimir Nabokov
Your gaze of escaped without flight
(betrayed by that imprecise angle)
would break the night
would tear your face
rondador of roulettes wounds
and bars dilated by a sip of light
and a encounter of mirrors
with dark smells and desperate windows
(All masks look alike        All stories find their hero and its double        The condemnation to the earthly loss germinates in the insomniac gestures       The illusion repeats itself        Very well. Cut…!)
Tensed to solitude
a twisted tear
would seek the veins of your enjoyment
carnal fragmentation of a song in scream
or final burst that starts it all
to suspect only the silence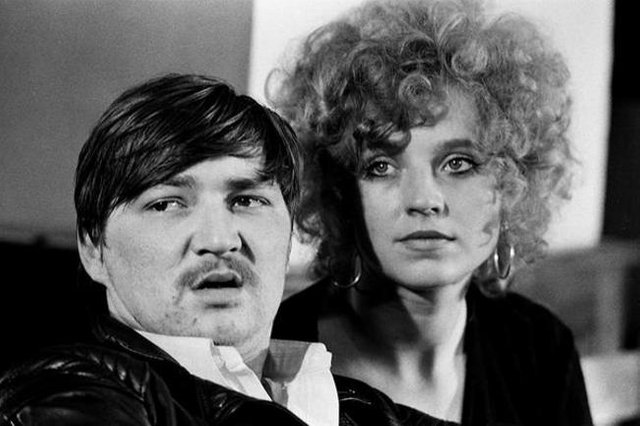 Fassbinder y Hanna Schygulla (1970) / Fassbinder and Hanna Schygulla in Baal (1970) Fuente / Source
Gracias por su lectura / Grateful for reading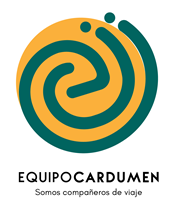 Puedes visitarnos en @equipocardumen y en Discord